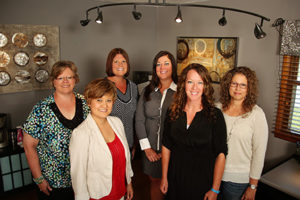 The Iowa FAIR Plan Association was created by the State of Iowa to provide basic dwelling, home and commercial property insurance to qualified applicants who are unable to find insurance in the voluntary insurance market. With the assistance of the local producer, we may be able to provide this basic need for individuals that may otherwise go uninsured. Having insurance can help by getting someone back on their feet and back to a normal life after a loss. Our producers are our first line of contact. Without their diligence in helping their community, many individuals would not have this essential component to help protect their assets.
Please meet one of our appreciated colleagues, Turner Insurance Agency, Creston, IA. The agency was established in 1986 by Curt Turner. Katie Turner, the current owner, purchased the agency from her father in 2001.
The Turner Insurance Agency currently has two offices. Locations are in Creston, Iowa and Osceola, Iowa. There are seven dedicated staff members who have over 100 years of combined experience in the insurance industry. The agency is currently appointed with five carriers in Iowa to help provide the insurance needs of their clients. In addition to the standard insurance coverages, the agency also writes crop/hail, health and life and they are also a brokerage for commercial risks.
When asked about the agency goal Katie stated, "To provide the best customer experience as their full-service insurance provider". She also resides in one of the office locations and comments "WE ALWAYS ANSWER OUR PHONE".
You can learn more about Turner Insurance Agency at https://agent.amfam.com/katie-turner