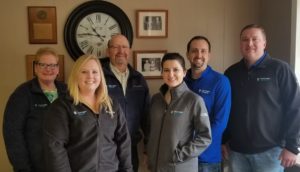 The Iowa FAIR Plan Association works with local producers to help their community by obtaining property coverage for premises which do not qualify for the voluntary market for a number of reasons. The IFPA would like to recognize one of our associates. Please meet Davis Taylor Insurance in Red Oak, Iowa.
The agency was established in 1906 when William "Ed" Peterson founded the Peterson Agency. Ed's son, Walt Peterson, continued with his legacy of managing the agency until his death in 1955. In 1955 Ross Davis, who was a marketing representative for The Hartford, began a partnership with Madge Peterson, Walt's widow, to purchase and manage the agency. Rick Taylor joined the firm in 1976 and the agency became known as Davis Taylor Insurance in 1984.
The agency is currently appointed with 11 carriers and staffed with 7 staff members who, with their extensive knowledge, assist their clients with their insurance needs. The agency is licensed to write coverage in Iowa, Nebraska, Missouri, and Kansas. Nathan Taylor, Rick's son, is a fourth-generation insurance agent. This is proof of their dedication to the community. When asked about the agency goal Rick stated, "retention and stable growth". The agency has represented The Hartford continuously since 1906 to the present day.
You can learn more about Davis Taylor Insurance at: https://www.davistaylor.com