The Iowa FAIR Plan Association was established in 1968 as part of the Urban Property Protection and Reinsurance Act.
Our Vision Statement
The Iowa FAIR Plan Association will be "easy to do business with" by employing insurance industry "best practices" to help our producers efficiently and effectively meet the property insurance needs of qualifying property owners in the state of Iowa.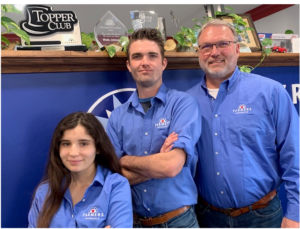 This vision would not be attainable without the perseverance of the local producer. With their expertise and practical understanding of their community's needs, we can create an alliance which may help provide the protection their clients may need.
Please meet one of our associates, Wade Johnson Insurance Agency, Marshalltown, Iowa.
Wade Johnson Insurance Agency Producer Profile
The agency was organized in April 1993.  They currently have three knowledgeable individuals in their office to help assist with their client's insurance needs. One of the staff members is his son, Tyler. Tyler has been with the agency for six years.
The agency currently writes for several different Iowa companies with the primary company being Farmers Insurance Group.  Wade and his team specialize with providing products for coverage for dwellings, motorcycles, life insurance, financial services and recreational toys.
Wade has been to Topper Club five times with Farmers Insurance Group.  In order to qualify for this prestigious honor, the agent must obtain high levels of production, show quality underwriting skills and retain a good loss ratio. Statistically the average is that only 2 or 3 Iowa agents attend each year.
When asked about his experiences with the Marshalltown tornado in 2018 his comment is as follows:
Going through the tornado was really quite a deal.  My agency was directly in the path, so we were without power, phone and internet for two weeks.   We ended up buying new cell phones and running on battery and cell data to help clients.  My son, Tyler, went way above and beyond when he got a chainsaw and truck and started helping, not just clients but everyone clean up the mess.  He didn't even clean his own house up that was directly hit until he had helped many, many people clean their mess first.  He was so exhausted that a church group came to his house and helped him.  It really makes you feel good to know that clients are protected when you have the proper protection for them.  It really makes you proud when you can watch your son help so many people. I love having a family business and spending time with my son working side-by-side each and every day.
Wade shared that the agency goal is to help everyone have the insurance that they need. You can go to the website for Farmers Insurance agent Wade Johnson with this link.