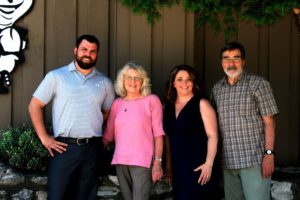 The Iowa FAIR Plan Association relies on diligent individuals to assist consumers in obtaining coverage. There may be many unusual and difficult situations where the producer must use their expertise and knowledge to succeed in this mission.  As recognition, we would like to take the time to spotlight our producer partners. Let us begin, please meet: Hazell Agencies in Burlington, Iowa.
The agency was founded by Arthur Hazell in 1947. This is the year that his son, Scott Hazell, the current agency principal, was born. Scott started working in the office in 1970, just before his daughter, Sarah, was born.  Sarah currently holds the position of Office Manager. The agency is currently appointed with 8 companies and licensed to write in Iowa and Illinois.
Today their focus is on home and auto insurance. In past years, the agency was involved with real estate which has allowed several of the Hazell family members to work within the business. With this additional background, it provides the agency staff to have a better understanding of the housing market and valuation of properties. With Scott Hazell, Cathy Hazell (wife), Sarah Hazell (daughter) and Tony Hazell (son) as agents, the business is a true family venture. When asked about the agency's goals, Scott responded: "Keep everyone happy!".
You can follow Hazell Agencies on Facebook at https://www.facebook.com/hazellinsurance/